CCTV Drain Surveys

Cheshire
Expert Drains Cheshire can carry out state of the art CCTV surveys to figure out precisely what is in your pipes.
As soon as we have identified an issue, we offer a specialist drainpipe cleaning solution. We can also help return your drainpipe system to excellent functioning order.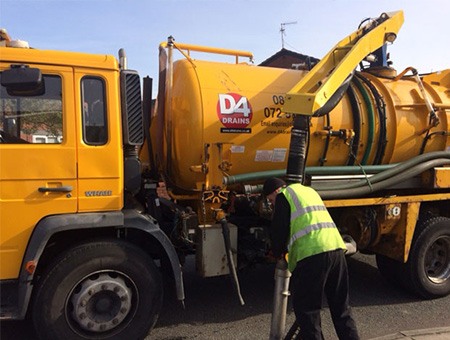 Our company is based in Cheshire, and we provide our professional and comprehensive services to our local surrounding area, including:
Warrington
Macclesfield
Northwich
We offer a high-quality service and ensure we meet all the safety requirements. You can request a free quote by giving us a call, and we can discuss your needs.
Our fully trained team of drainage engineers have years of experience in the industry and can assist with any drain problem that you might come across. We use a fleet of specialist vehicles and modern equipment to resolve any issues quickly.
We have worked on properties of all sizes and nature. We are experienced in all aspects, from domestic blockages to overflowing drains on commercial or industrial factory sites.
What is a CCTV Drain Survey?
The process of CCTV drain surveying involves putting a camera down blocked drains to give them a full inspection and check the condition. It also gives us a closer look to see where the blockage is, and what is causing the problems.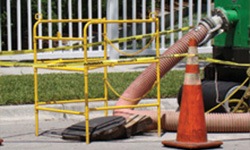 Cameras are placed down a manhole, into the sewer or sewers, in the areas where the problems have been identified. Using this method, surveys are carried out, and an inspection report is completed for the clients by our team of specialists.
How much does a CCTV Drain Survey Cost?
The cost of CCTV drainage surveys can vary depending on the type of inspection you need. For example, if you are only having an investigation to find where and why the problem is occurring, then this isn't usually expensive.
However, if the investigation involves a map of your drains to check which are yours and which are your neighbours, then this may be more expensive. The reports are well detailed to ensure the right equipment is used, and we want our customers to have the result they want.
Prices for CCTV drain surveys vary between different companies but are usually between £50 - £200. The price of the inspections doesn't cover or include any repairs that may need to be done.

It is essential to call the experts if you need any drainage services, as they need unblocking as soon as possible.
How does a CCTV drain survey work?
We use the most up to date technology and equipment to create records with taped videos. We offer a detailed quotation for any maintenance or repair work that might be needed.
No job is too big or too small for your local drainage contractors in Cheshire, give us a call on 0800 0725147 and see how we can help.
Our engineers are equipped with whatever is needed to embark on the CCTV Survey, enabling them to perform assessments with mobile push pole systems for 50mm - 150mm drainpipe pipes approximately 150 metres. Up to tractor devices for 150mm - 600mm drain pipes as much as 250 metres.
How long does a drain survey take?
A drain survey and inspection only takes a couple of hours to complete. However, this could vary depending on the size of the property in order to identify which drain is causing the problem.
Call us here at Expert Drains Cheshire for the best Cheshire drain services! You can find our phone number on the contact us page on our website, and we offer good customer services skills.
Why and when would I need a Survey?
Most of the time, it can be hard to spot problems with your drains, especially if it's not obvious where the problem is coming from. This is why you need to have a CCTV drain survey done if you are having trouble with your drains.
Using CCTV to Identify Drainage Faults
CCTV equipment can help you to identify drainage faults. This happens by sending a CCTV camera down the drainpipe, and it will find the problem. Once the problem has been found, the CCTV system will also show the exact location of the drainage fault too.
What Will a Survey Find?
The CCTV drain survey will find many different faults with your drainage systems. If you would like to find out more information, please don't hesitate to get in touch with us today, here at Expert Drains Cheshire.
Here are some of the main things CCTV drain surveys will find:
Collapsed Drains
Having a collapsed drain is one of the worst problems that can happen, and is usually caused when you don't maintain your drains properly. If you do see signs of a collapsed drain, it is important to get this sorted as soon as possible.
Tree Root Ingress
Tree root ingress can block drains and can take a long time to cause noticeable and visible damage. This is when CCTV drain surveys come in handy! The roots themselves get into the drains through the breakages in the pipes themselves and can grow fast.
Blockages
CCTV drain surveys can find the exact location of the blockage, and exactly what is causing the blockage. Blockages can cause problems with your toilet, sinks and baths, and can also cause bad smells to linger around your house. This is why it is important to call a professional as soon as you spot signs of a blockage.
Causes and Extent of Leaks/Bursts in Pipes
CCTV surveys can find the causes of leaks and bursts in your drain pipes, and also how bad the damage is. This is important for the professionals, so they can work out the best way to fix the leaks or bursts in the pipe, without causing further damage.
Corrosion and Wear and Tear
If your pipes have any corrosion or wear and tear damage to them, then a CCTV drain survey can spot this. Corrosion and bad wear and tear can cause your pipes to break, which means you'll need an expensive full replacement.
Animal Intrusion
Animals can get into your pipelines and cause blockages and damage to your drain pipes. This can go on for a long time before it becomes noticeable, which is why it is so important to have CCTV drain surveys. For more information, please give us a call today.
Evidence of Displacement or Poor Installation
Poor installation isn't always obvious or noticeable, which is why CCTV drain surveys are important to give you evidence to get a professional to come and sort the issues out for you. It is important to have the evidence before calling up so that they can work out what the problems are and know exactly how to sort them out.
CCTV Surveys are a fantastic way to diagnose any potential issues with your drainage system without being intrusive. It's a relatively simple procedure which doesn't involve any costly excavations, yet extremely effective.
If you notice your drainage system running slow or leaving standing water, there's almost certainly an obstruction somewhere in the pipeline. Expert Drains Cheshire can carry out emergency drainage clearance throughout Cheshire.
Here at Dillons Services Ltd in Cheshire, we aim to be on-site within 24 hours to diagnose and resolve the issue, offering great customer service. The next time you have a drainage issue, why not give us a call and see how we can help?
Whether you have a problem at home or even in your office, we highly recommend you call our number and get one of our office staff, who are always available to discuss any works that are required. It's easy to get in touch with us, as we are working every day.
If you would like to find out more information about our services or get a free quote, please visit our website or contact us today via phone call or email.
Our expert team will get back to you with our fast response service, and answer any of your queries or questions so we can provide our customers with peace of mind.