Septic Tank Cleaning and Drain Clearance Cheshire
We understand the inconvenience and frustration a blocked drain can cause. If you are looking for septic tank cleaning and drain clearance in the Cheshire area, we can help.

Our team is capable of dealing with any situation with professionalism and efficiency. We can carry out scheduled maintenance on domestic or commercial drains, including CCTV drain surveys.

We offer a wide range of septic tanks services from inspections, emptying and repairs. If you are in need of a reputable, reliable drainage contractor, give us a call on 0800 0725147

Warrington
Chester
Crewe
Runcorn
Widnes
Holmes Chapel
Helsby
Ellesmere Port
Macclesfield
Northwich
Wilmslow
Winsford
Weaverham
Haslington
Congleton
Sandbach
Nantwich
Poynton
Neston
Culcheth
Middlewich
Alsager
Knutsford
Lymm
Frodsham
Bollington
Septic System Maintenance
Septic system maintenance is important for managing waste materials. Once a septic system is installed, they usually have a working life of 25-30 years. With a regular maintenance schedule and care from its users, they can often provide a reliable sewage solution for longer than their life expectancy.
If you are new to owning and living with a septic tank system, there are some factors which you should consider. Avoid pouring harsh chemicals and grease down your drains as they can contribute to blockages which aren't pretty. Excessive usage of cleaning chemicals can damage the bacterial balance which is essential for a healthy septic tank system, affecting its efficiency. The drain field, which is where filtered water is released and pipework located, should ideally be kept structure and traffic-free.
All work on a septic tank should only be performed by experienced, qualified professionals with sufficient equipment. Never, under any circumstances, enter a septic tank. The accumulation of toxic gases can be dangerous, sometimes fatal. Expert Drains Cheshire can work with you to regularly inspect and clean your septic tank to ensure it performs optimally. We can additionally repair your septic tank if a fault was found during an inspection.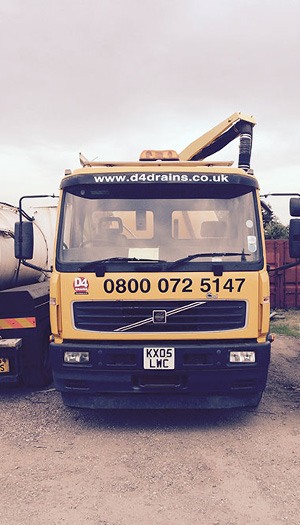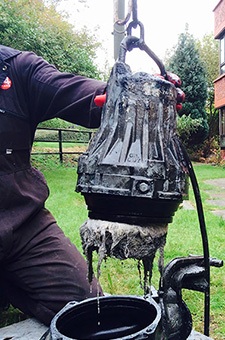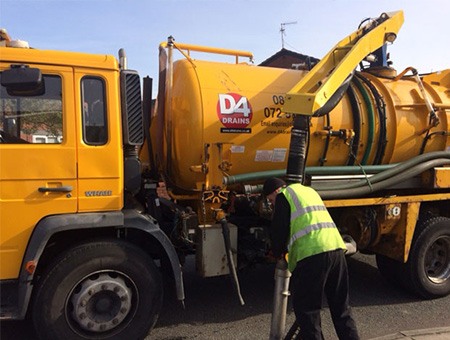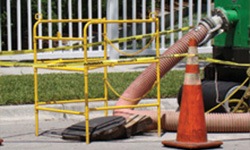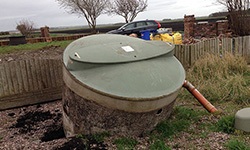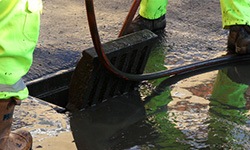 Signs and Symptoms of Septic Tank Problems
Before everything goes horribly wrong and there's sewage backed up in your house, there are signs and symptoms which hints at septic tank problems in their early stages. So what are the signs and symptoms of septic tank problems? By catching the fault early, you can often avoid costly, timely and smelly repairs. If you notice any of the signs and symptoms, don't delay and call a professional drainage contractor such as Expert Drains Cheshire today.
Slow Flushing Toilet: Often coupled with slow draining in sinks and showers, this can indicate to a build-up or partial blockage somewhere in the pipework. It will also show this sign if your septic tank is nearly full and ready to be emptied.
Gurgling Drains: If you hear a low gurgling noise from the drains when you're flushing the toilet or washing water down the sink, this can indicate to a full or faulty septic tank.
Sewage Smell: This is one of the most obvious symptoms and often the one which drives homeowners to action. It's one of the later symptoms which indicates overflowing sewage. At this point, you should call a professional drainage contractor to diagnose and resolve the issue before the sewage backs up through the pipes into the house.
Greener Grass: It's usually recommended that you plant grass on your drain field, or choose existing fields to be your drain field. Apart from the grass helping in absorbing the run-off, it can also serve as a warning system. If the grass has sudden become greener and more lush, it's more than likely the excess nutrients from an overflowing or leaking septic tank.
How Do You Empty A Septic Tank?
If you are new to owning a septic tank, or living with a septic system, you will find yourself making friends with your local septic tank specialist. If you're in the Cheshire area, Expert Drains Cheshire are the professionals you can rely on to carry out regular maintenance and cleaning of your septic tank. Our fleet of specialist vehicles are capable of handling domestic and commercial septic system emptying- no job is too large or too small. We are registered Licensed Waste Carriers with the local authority so you know you're working with the experts.
Over the years, we are often asked questions such as "how do you empty a septic tank?" or "how often do I need to empty my septic tank?". Septic tanks need to be emptied on a regular basis as there is only a finite amount of room in which the waste can be held. They are installed on property, or properties which are not connected to mains sewage, often in suburban and rural areas. The internal at which the septic tank needs to be emptied depends on a number of different factors, including the size of the tank, the number of occupants in the household and how much solid waste is being produced.
As a general rule of thumb, a household of 4 should have their septic tank emptied once a year, a household of 2 should have their septic tank emptied every 2 years. Expert Drains Cheshire will work with you to calculate how often your tank needs to be emptied and maintained. In emergency situations, we offer a 24/7 rapid response service for maximum peace of mind.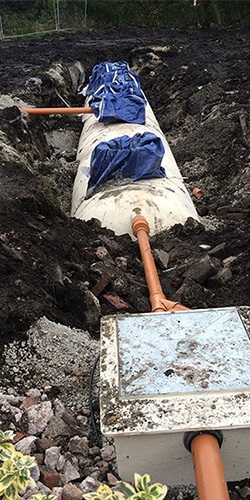 Septic Tanks Emptying Cost UK
---
Another frequent question is the septic tanks emptying cost. Again this is influenced by the size of the tank, accessibility and how often your tank needs to be emptied. Naturally, the larger the tank the most it will cost, though depending on the number of occupants, this may mean longer intervals between emptying.
Often, the cost of emptying and maintaining a septic tank is less than you'd think, particular when you consider how integral it is to your household functions. Sometimes, a group of rural houses, usually between 2-4, will be connected to a communal septic tank and have an agreement to share the maintenance costs. As the local experts in Cheshire, Expert Drains Cheshire's prices are competitive, and you are always guaranteed the best possible service.
Blocked Drain Solutions
Blocked drains are unpleasant and you can count on our rapid response team to be available 24/7 to diagnose and resolve the matter quickly. Expert Drains Cheshire are experienced in all aspects of drainage from CCTV drain surveys, repairs and emergency drain unblocking. Our team of specialist drainage engineers are equipped with the latest technology and continuously trained to provide the most efficient service possible.
Over the years we have worked with domestic and commercial clients on properties of all sizes and nature, including larger industrial sites. Our reliable, efficient service and professional attitude has earned us a fantastic reputation with many repeated custom and recommendations.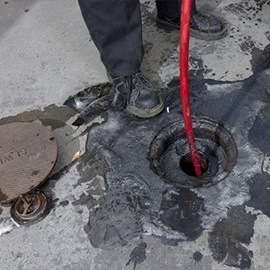 Emergency Drain Unblocking Cheshire
Even if your drains are regularly maintained for optimal performance, circumstances such as excessive rainfall can quickly overload the system. Not only is this disruptive to your daily routine, it can also cause costly damages to your property.
Expert Drains Cheshire can respond to any drainage emergency and aim to be on site within 12 hours. We will always bring necessary equipment with us to resolve the issue in a single visit to minimise disruption and inconvenience.

Are you looking for blocked drains specialists and septic tank cleaning in Warrington, Macclesfield, Northwich, and Cheshire?

No job is too large or too small- from a small domestic blockage to a commercial site emergency, next time you need emergency drain unblocking in the areas of Cheshire, give us a call on 0800 0725147.
Expert Drains Cheshire
Prenton Way
North Cheshire Trading Estate

Cheshire
CH43 3DU